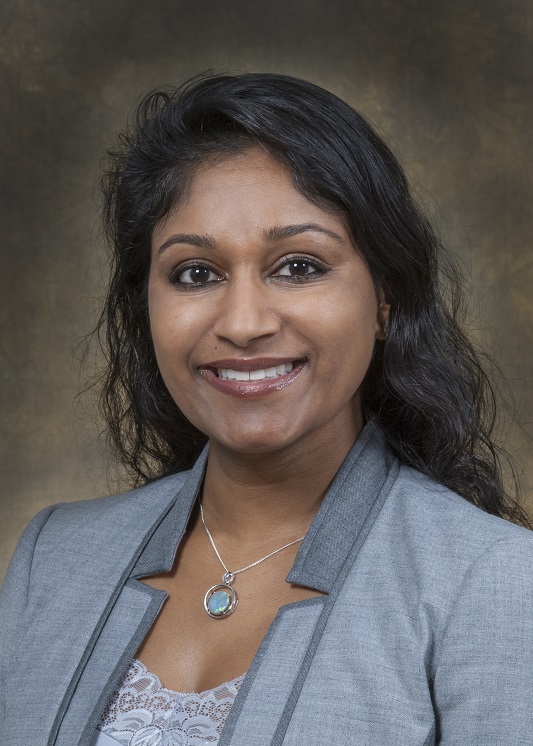 Assistant Professor, Clinician-Educator
313-833-4490
313-993-8744 (fax)
Neena Marupudi
Narrative Bio
Dr. Neena Marupudi is a pediatric neurosurgeon who has recently joined the Pediatric Neurosurgery Group at the Children's Hospital of Michigan in Detroit, MI. Originally from Texas, she has done her undergraduate studies at Johns Hopkins University, medical school at PennState College of Medicine, Neurosurgery residency at Wayne State University & Detroit Medical Center, and finally her pediatric neurosurgery fellowship at University of Washington Seattle Children's Hospital. She has special clinical and research interests in pediatric brain tumors, hydrocephalus, and spasticity.
Interests
Clinical Interests
Pediatric Neurosurgery
Dr. Marupudi's specialties are with children who have hydrocephalus, brain and spinal cord tumors, cerebrovascular disorders, spasticity, pediatric cervical spine disorders, epilepsy, spina bifida, and Chiari malformations.

Special techniques
Laser ablation for pediatric brain tumors and epilepsy, Dorsal rhizotomy for spasticity, Endoscopy/minimally-invasive brain surgery

Research Interests
Dr. Marupudi's research interests include molecular genetics of pediatric brain tumors (diffuse intrinsic pontine gliomas, posterior fossa tumors), precision-based treatment for pediatric neurological tumors, and cellular and physiological mechanisms of cerebrospinal fluid disorders (i.e. hydrocephalus).
Residency
2009-2016
Neurosurgery
Wayne State University School of Medicine
Detroit Medical Center
Detroit, Michigan
Fellowships
2016-2017
Pediatric Neurosurgery
University of Washington
Seattle, Washington
Medical
2005 - 2009
MD
Penn State University College of Medicine/Hershey Medical Center
Hershey, Pennsylvania
Graduate
2005
MS, Neuroscience
Johns Hopkins University
Baltimore, Maryland
Undergraduate
2004
BA, Anthropology & Neuroscience
Johns Hopkins University
Baltimore, Maryland
Publications
Marupudi NI, Altinok D, Goncalves L, Ham SD, Sood S. Apparent Diffusion Coefficient Mapping in Medulloblastoma Predicts Non-Infiltrative Surgical Planes. Child Nervous System. 2016 Nov;32(11):2183-2187. PMID: 27406557.

Marupudi NI, Sood S, Rozzelle A, Ham SD. Effect of Molding Helmets on Intracranial Pressure and Head Shape in Nonsurgically Treated Sagittal Craniosynostosis. Journal of Neurosurgery: Pediatrics. 2016 Apr 8:1-6. PMID: 27058454

Sood S, Marupudi NI, Haridas A, Ham S. Endoscopic Corpus Callosotomy and Hemispherectomy. Journal of Neurosurgery: Pediatrics. 2015 Dec; 12(6):681-6. PMID: 26407094 (Role: Surgical assistance, Data acquisition and analysis, Manuscript writing and editing)

Sood S, Marupudi N, Haridas A, Ham S. Letter to the Editor: Intracranial Pressure and Sagittal Synostosis. Journal of Neurosurgery: Pediatrics. 2015 Sep; 16(3):346-9. PMID: 26053553 (Role: Background research, Manuscript writing and editing)

Marupudi NI, Mittal S. Diagnosis and Management of Hyponatremia in Patients with Aneurysmal Subarachnoid Hemorrhage. Journal of Clinical Medicine. 2015; 4(4):756-67. PMID: 25937938

Marupudi NI, Mittal M, Mittal S. Delayed Pneumocephalus-Induced Cranial Neuropathy. Case Reports in Medicine. 2013:105087. PMID: 24151506

Marupudi NI, Ham SD, Sood S. Letter to the Editor: Two-Handed Endoscopic Technique. Journal of Neurosurgery. 2013 May; 118(5):1148-9. PMID: 23472844

Piquet AL, Venkiteswaran K, Marupudi NI, Berk M, Subramanian T. The Immunological Challenges of Cell Transplantation for the Treatment of Parkinson's Disease. Brain Res Bull. 2012 Jul: 88(4):320-31. PMID: 22521427. (Role: Study conception and design, Data acquisition and analysis, Background research)

Marupudi NI, Han JE, Li KW, Renard VM, Tyler BM, Brem H. Safety of Paclitaxel: A Review of Adverse Toxicities and Novel Delivery Strategies. Expert Opinion on Drug and Safety. 2007 Sep;6(5):609-21. Review. PMID: 17877447

Sciubba DM, Noggle JC, Marupudi NI, Bagley CA, Bookland MJ, Carson BS, Ain MC, Jallo GI. Spinal Stenosis Surgery in Pediatric Patients with Achondroplasia. Journal of Neurosurgery. 2007 May;106(5 Suppl):372-8. PMID: 17566204. (Role: Study design, Data acquisition and analysis, Manuscript writing and editing)

Zhang L, Shimoji M, Thomas B, Moore DJ, Yu S, Marupudi NI, Torp R, Torgner IA, Ottersen OP, Dawson TM, Dawson VL (2005) Mitochondrial localization of the Parkinson's disease related gene DJ-1: Implications for pathogenesis. Human Molecular Genetics. 2005 Jul 15. 14(14):2063-73. PMID: 15944198. (Role: Data acquisition and analysis, Manuscript writing and editing)